Modular shapes and neutral colors, this collection smells like the sea of Ireland

This sweet designer took a fashion design degree at the The National College of Art and then she moved to Dublin and London.
Your graduate collection is a tribute to beiges and whites. Where do you think this choice comes from?

I was definitely influenced from growing up beside the sea where a palette of neutral colours is predominant in the beaches and countryside. As a photographer, I was also influenced by old photographs of local fishermen and beach scenes with their soft sepia tones.
The collection is designed to be gender neutral which is facilitated by the simple colours. Keeping the colours of the garments neutral allows the focus to remain on the quality of the design and construction of the garments.
Ropes and cords are also a treat. Do you mean referring to sea and sailors?
This was referencing the fishermen and the hand craft of net making. The pieces I make are usually oversized and loose fitting. I used ropes and cords as 'wearable accessories' to pull the coats in and to create the option of a feminine silhouette, from a primarily gender neutral outfit. I used the skill of macrame (rope knotting by hand) which I perfected while interning with Simone Rocha in London to add greater structure and interest to the rope elements. Growing up camping, hiking and partaking in sport, innovative and comfortable clothing design has an appeal for me. The collection explores the idea of modular clothing, where the neutral palette and flexibility of design allows the individual pieces to blend together to make a range of different outfits.






What is your favourite piece in this collection?

The Baby-grow inspired dress is one of my favourite garments in the collection. I was intrigued by the construction of the neckline and decided to enlarge the silhouette to be reminiscent of trawler fishing nets. The dress is made out of tulle reflecting the appearance of an old fishing net with flotsam and jetsam pieces attached to it. The bottom of the dress can be pulled up and clipped to the chest to create a new silhouette, which is both a play on the baby grow and adds a multi-functional element in keeping with the collection.
I have seen you love hat design. Do you think you will develop more in the future?

Yes, the hats have been very popular. I have always had a love of hats and knew I wanted headpieces in my graduate collection. Making hats was a new process for me. I was was able to be very experimental in the design process and pattern making, chopping and changing until I found the right fit and shape for the collection.
What's your next plan?

I am moving to New York this summer for a 12 month Graduate Intern Program.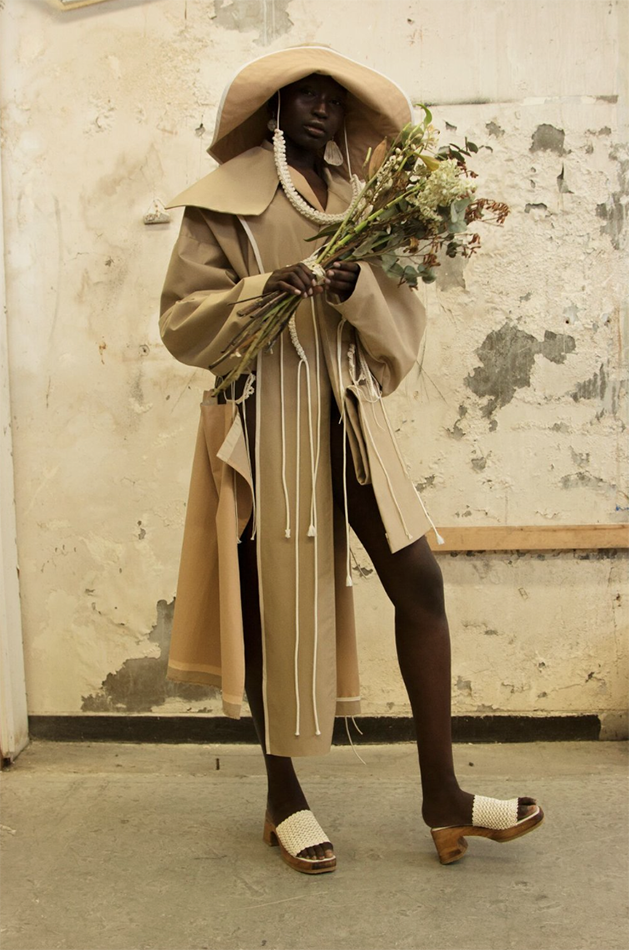 Credits: photographers Donal Talbot, Agnes Trawczynka, Dean Ryan, Ellie Connolly, Dee Nic Gafraidh, Hrishika, Appiok