We step into finnish countryside with this brilliant granny-farmer-style collection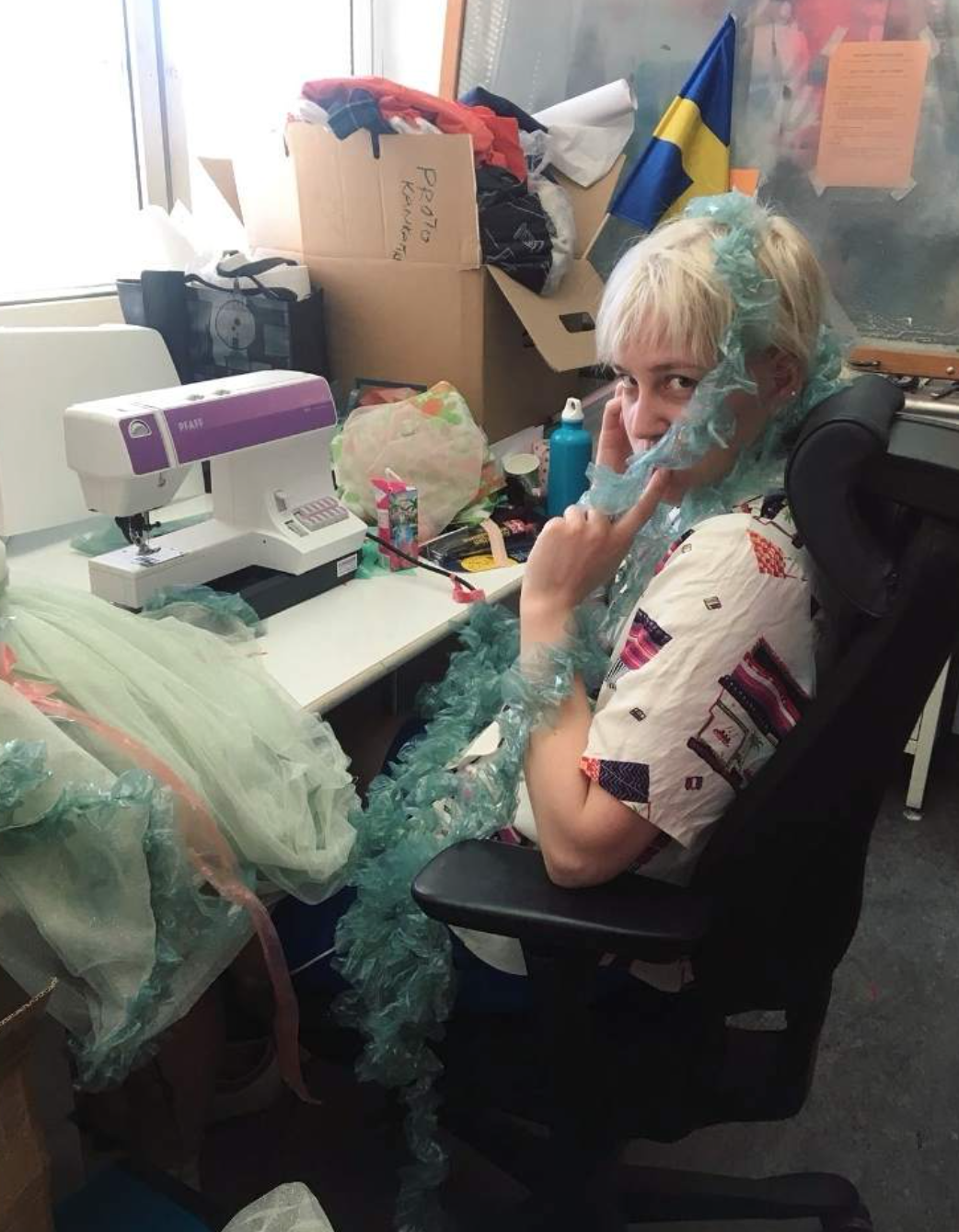 You have the most original collection coming out from Aalto University in 2018. What can you tell us about your origins?

I am from a small town in Finland. My childhood home is actually totally in countryside, and has a big yard with even a little forest out there. As a child I was free to go out in the nature whenever I wanted. I could just lie in a hammock and watch the birds fly. Nature and countryside have had a great influence in my creativity and I am really grateful for my parents for such a good childhood. Since a child, I already knew I wanted to become as a fashion designer. I guess my mother had some influence on that because she always made clothes for herself, and for the family too. I could just watch hours of her sewing and making the clothes.

I have learned to do art by myself




I have a background in sports, in alpine skiing. I competed in alpine skiing from my childhood until 2016. Sports have had a big influence in my life and it has given me a lot in my life. I have used to deal with a lot of things at the same time and solve problems by myself. Before I got into Aalto-University to study Fashion, the only art education I had had was a one year fashion course in adult education college.
For me in fashion, as in any arts, it is really important to have a great balance between contrary things. I believe that the balance between contrast things is the reason behind something looking interesting in peoples eyes and minds. I love the feeling when I get people to wonder how something they first found ugly actually turns out to be something beautiful.


In my graduate collection there is great balance between crude and elegant elements.








Lightweight fabrics combined with rough materials, delicate fabrics combined with crude worn-out-materials.

The combination of fabrics and embroidery is really catchy and complex.

My aesthetics have always been to match totally different things together. I think it is like my character, from outside I might seem to be kind of a "badass" but actually from inside I am quite sensitive. My dream would be able to combine together modest lifestyle and fashion.
I find the combinations of contrast materials and research themes really inspiring. For me it is really easy to start to work with collections materials, silhouettes, sketching with collages and feelings when my themes have some kind of war between each other. I like then to be the peacemaker between them.
Granny style and a pinch of countryside: your woman as a lady-farmer

My Muse in my collection has been my own grand mother who was born in beginning of the 20th century. She was modest and hardworking lady-farmer, a mother of 13 children. She has always been great inspiration for me and I have admired her ability to take care of the children, house, farm and even make the clothes for herself and for the children. I only had a chance to meet her a few times, since she passed away one month after I was born. But still she has been a really important person in my life and I feel she has guided me through my life. Crazy, isn't it?


As I was working with my collection, I was thinking about a granny who is living in an abandoned house with her own crazy thoughts. She would make her own clothes from plastic waste and old curtains and tablecloths. The collections granny actually has a hint of me and my craziness. My collections lady is -how I call her- a Creepy Granny.
Name your favorite tale character
I can't name any favorite tale character since as a daydreamer I like all the fairy tales, and different stories' characters have their own good and inspiring qualities. I could say I love the stories which have some kind of a twisted ending.
Your style is quite recognizable: do you think you will keep the same style or you will be moving forward to new fashion goals?

I think my style will stay quite the same, at least with similar starting points I have had this far. Themes which have contrasts combined together and inspirations from beauty of everyday craziness. I want to maintain the same values and I never want to lose my heritage. Of course I want to improve myself and my skills, and of course, stay in time. It is the most important thing for a fashion designer to maintain their own values and thoughts, but at the same time improve themselves, as the society is changing all the time.

Credits: photographers Guillaume Roujas

________________